Hazy Chard-
Onnay (2021)
With Cutter
Cascadia (WA)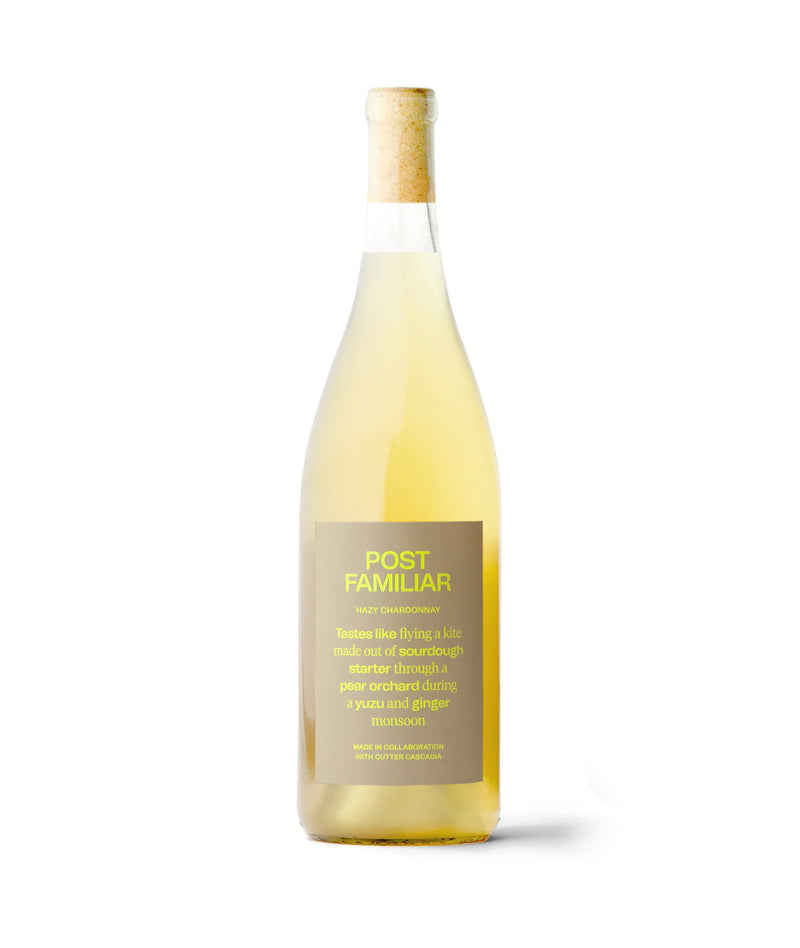 Experience
Tastes like flying a kite made out of sourdough starter through a pear orchard during a yuzu and ginger monsoon.
Grape(s)

Chardonnay

Place

Eastern Columbia Gorge

Producer

Cutter Cascadia

ABV (%)

12.8

Contents (ML)

750
Process
Drastic Landscapes, Orphaned Barrels
With Michael Garofola from Cutter Cascadia. Words by Brent Braun. Photography by Jordan Sowers.
There is something perpetually mysterious about Michael Garofola's Cutter Cascadia project. The wines are amongst the most compelling, consistent, and delicious of the current young generation of progressive Oregon winemakers. But unlike most of them who are focused on the Willamette Valley and/or the western Columbia Gorge (Hood River/Underwood Mountain), Michael is primarily making wines from one of the most remote parts of Oregon. Ever been to the Dalles? You'd swear you'd left the Pacific Northwest altogether and landed smack in the middle of New Mexico (that Michael moved to Portland from New Mexico, might in some ways help explain his affinity for the mystique of the high desert).
(Afinitiy) of the (High) Desert
It's really important to recognize that what Michael is doing with natural winemaking in the Dalles is totally unprecedented. Despite a fairly long history of grape growing (the historic Pines vineyard was planted in the late 1800's) the Dalles basically has no identity. No one has ever made truly great wine from this region. There is not a single great historic legacy producer. So no ideological lodestone, no shoulders to stand on. Just lots of grapes planted in a windy, dry high desert. In some ways, this has given him a free pass to express this part of the Gorge in whatever way seems the most appropriate to him. And I think he might be expressing it greater than anybody ever has. When I first tasted Michael's skin contact riesling Heavy Water, I felt like I was drinking the Eastern Gorge for the first time. That was in 2018 and the wines have only gotten better since.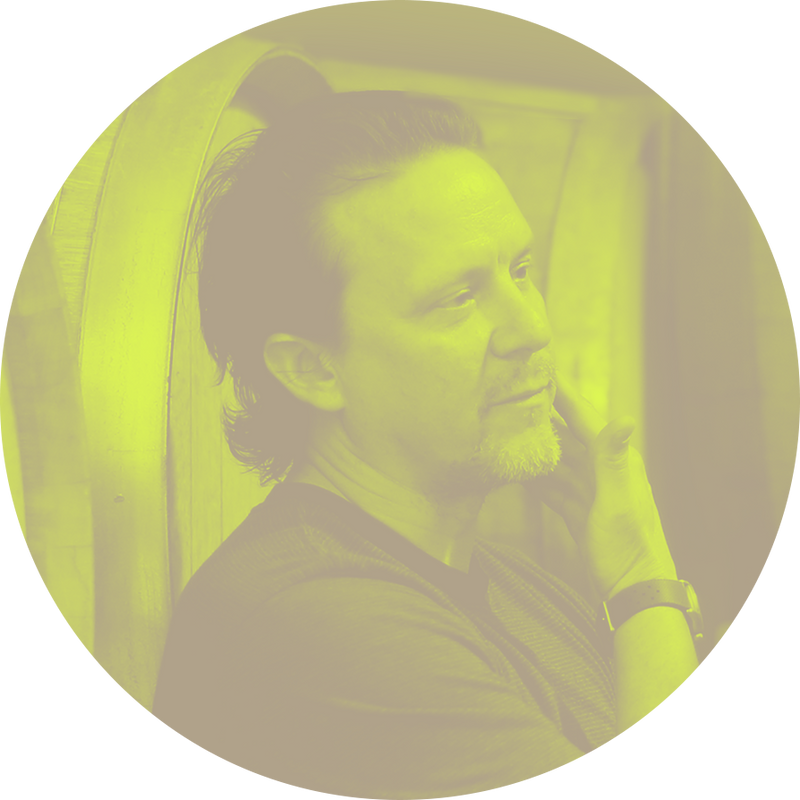 "The great appeal is that no one has ever cared about this part of The Dalles. There are 40 year old Chardonnay vines here, and the wines taste totally different from other parts of Oregon"
Michael Garofola
The Orphaned Barrel
In January of 2021 I took a trip to the Columbia Gorge to taste in his cellars. Tasting unfinished wine out of the barrel is always a treat and as we tasted through barrel after barrel after barrel, it was clear that this might be the best collection of wines he's ever produced.
As we got to the end of the tasting, he looked around the cellar and said 'Here, I got one more thing for you to try'' and he poured me a taste. It was incredible. It had a combination of bright juicy freshness and textured mouthfeel that made me want to both chug it at the beach and save it for a perfect slow roasted autumn chicken. 
'It's Chardonnay' he said 'from out in The Dalles. It's a high desert, so you get these windy, hot extreme weather conditions. It's still Oregon, but it's like a different planet compared to the Willamette Valley.'
(The) Wine's (Distinct) Haze
I'd never tasted chardonnay quite like it. It was layered with pear, yuzu, ginger, Brazil nut and so much more. There were no hallmarks of a grocery store California Chardonnay; that is to say, no oak influence, none of the sweet buttery, vanilla and movie theater popcorn quality that turned off an entire American generation to Chardonnay. It also didn't have any of the markers of great French Chardonnay, like white Burgundy. In the current zeitgeist, those wines tend to be all flint, mineral and citrus zest. Delicious, sure, but definitely not the same thing as what was happening here. Additionally, due to a variety of somewhat oblique factors, the wine had a distinct haze to it. Almost as if there was life forming and swelling within the juice itself. When you drank the wine, you could feel the texture of that haziness and it added to the overall impression of a wine that was truly 'natural' - truly alive. Michael's chardonnay was living its own life. It was Oregon Chardonnay from the middle of a windy high desert and I was into it. Really into it.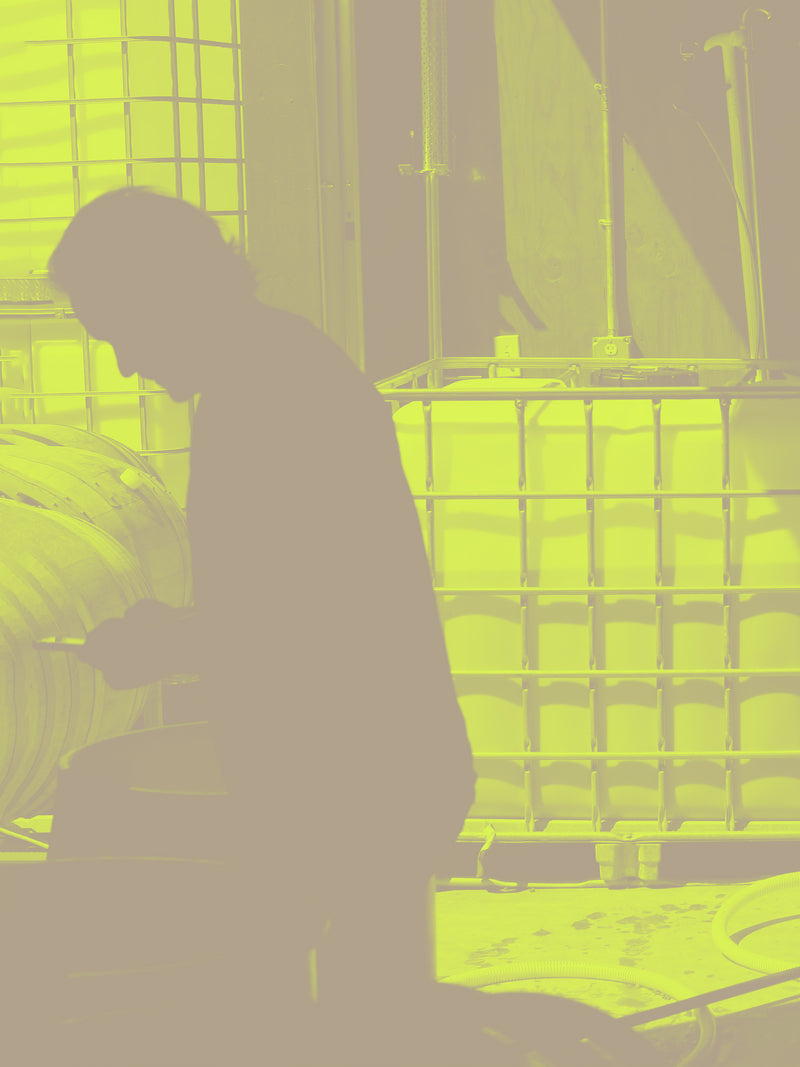 'This is fantastic, when are you going to bottle it?' I asked. "Well I wasn't really planning on selling it' he said. 'I dont need another wine in the lineup. And it's not really worth bottling it for such a small amount of wine. It'll probably just get used to top up other barrels and maybe blended into something next year.'

I couldn't believe it. He wasn't going to sell it?? How could a wine with such character and such idiosyncrasy, just get blended away? How could it not be shared with the wine lovers of the world? But, the thing is, I also understood. In fact, one of the reasons Jordan and I started Post Familiar was for situations just like this.
For years, as a Sommelier, I'd encountered this situation over and over again. I'd taste a small lot of something amazing in a winemaker's cellar only to find out that it wasn't ever going to get released to the public. Small scale winemakers have a lot of work on their plate an incredible amount in fact and sometimes, it's just not worth the hassle to find glass and corks and labor and time to bottle just one barrel of wine. (And that says nothing of the time it takes to get government approval for a front and back wine label that will only be used one time. And the money it costs for a professional designer to design the labels. And the month-long delays for a paper company to print it. And then you gotta sell it, which means driving into Portland and opening a bunch of bottles for wine shop buyers and restaurant sommeliers to taste. And finally after all that, you've now locked yourself into driving into town once or twice a week to deliver 6 bottles to this shop and 6 bottles to this restaurant. You get the idea).

So in the big picture, all this effort would be towards a one time release, because these small lots are often not something that can ever be recreated. Winemakers and farmers have better things to do with their precious time. 
"You work with what is in front of you and you adapt. What happens in the field and the winery is different from what was written in some book 30 years ago."
Michael Garofola
But what is a burden for a small scale winemaker is exactly the kind of thing that motivates us at Post Familiar. What if we could give those wines a voice? What if we could take those opportunities and buy those small lots from those winemakers and share them with the world? And we could tell the story of why the wine got made, who made it, and why you should care? And we can handle all the external stuff, the annoying stuff; the bottling, the labels (ok we love that part), the bureaucracy, the deliveries, everything. Wouldn't that be a win for the small winemaker? And wouldn't that be a HUGE win for the wine lovers of the world?? 

We think so. 
And so far, it seems like small winemakers think so. And hopefully, as a wine drinker, after tasting Michael's Hazy Chardonnay, you think so. We purchased this one barrel of orphaned chardonnay from Michael of Cutter Cascadia in order to share with you both the wine and his story of wild george experiments.
ABV (%)

Contents (ML)

Sulfur added (PPM)
Domestic Shipping
Due to hot weather, orders will be held in our queue and shipped ASAP. This isn't ideal, but it's essential in protecting your juice from warm temperatures during transportation. Our fufillment partner closely monitors the weather and any available window to ship, so it is possible that it could ship soon. Thanks you for understanding.